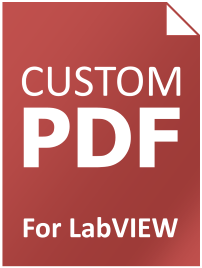 Create great looking reports in LabVIEW today!
Overview
Using the Custom PDF Generator you can easily create high quality PDF documents directly from your LabVIEW programs. Content can include text, tables, front panel views and images, all with a wide range of formatting options.
"Great PDF toolkit which saved me days of work doing it myself. Check out the excellent examples for how to make the most of this. My client appreciated the cost saving too! " 5/5 Stars
"A very useful toolkit to create professional looking reports in a very user friendly format. The toolkit provides a lot of functions, and is easy and intuitive to use. The toolkit also includes a lot of helpful examples."
5/5 Stars