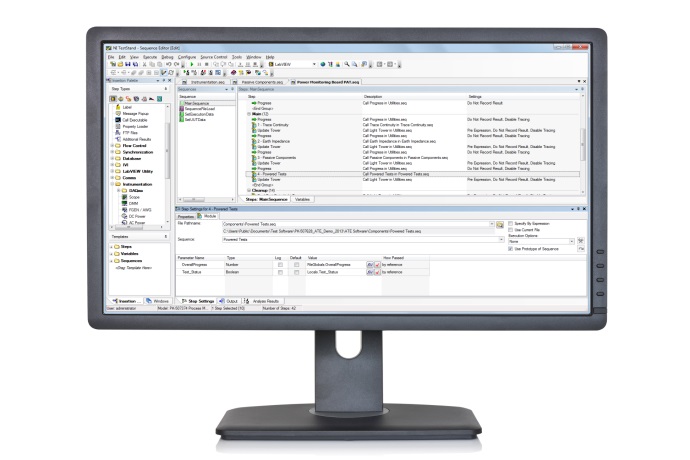 Introduction
National Instruments TestStand is a test management software environment which allows the development and execution of automated test sequences. The software is typically used in a production test setting, where it handles common operations such as sequencing of multiple test steps, calling test step code modules, looping and branching, results collection, limit checking, user management, operator user interface management, database logging and report generation.
TestStand significantly reduces the development time of production test systems by providing common test software components straight out of the box. Conversely, although it provides ready to run common objects, TestStand is highly modular and customisable to the extent where components can be completely replaced with the developers own custom code if desired.
The cost savings and accelerated development that TestStand can provide is reflected by the fact that 14 of the top 15 largest electronic manufacturers and 9 of the top 10 largest contract manufacturers use TestStand for their testing solutions. [1]
TestStand Architecture
The highly modular, layered, fully developer accessable architecture of TestStand can seem a little daunting to a beginner, although full understanding is not required to begin developing and executing sequences with the out-of-box configuration. However with a good understanding of the architecture of TestStand and the components it contains, the power of the product as a highly customisable test management tool is revealed.
Sequence Editor
The primary test system development interface for TestStand is the sequence editor, which allows test program sequences to be created and edited.
Code Module Adapters
Individual test actions and measurement code modules are written in seperate development languages and integrated into a TestStand sequence. TestStand has a set of adapters which allow it to call code written in almost all software development languages; even allowing mixing of modules written in different languages into the same test sequence. The current adapters interface with LabVIEW, CVI,C++ DLLs, .NET, ActiveX/COM and HTBasic.
Step Types
TestStand contains a set of in-built step types which can be used to build up test sequences. This selection includes steps to perform actions such as: numeric limit testing, boolean value testing, IVI (Interchangeable Virtual Instrument) instrument control/measurement, calling a sub-sequence and operator pop-up instruction dialogues. In addition custom step types can be created for TestStand to expand beyond the standard out-of-the-box functionality. By using custom steps it is possible to build a configuration based environment, where tests can be built without the need for external programming.
Operator Interface
The operator interface in used by the production line operative to execute the automatic test program on a unit. TestStand ships with a standard operator interface, which can be customized by modifying the supplied source code.
References
[1] NI Developer Zone – Why choose TestStand? http://zone.ni.com/devzone/cda/tut/p/id/4832