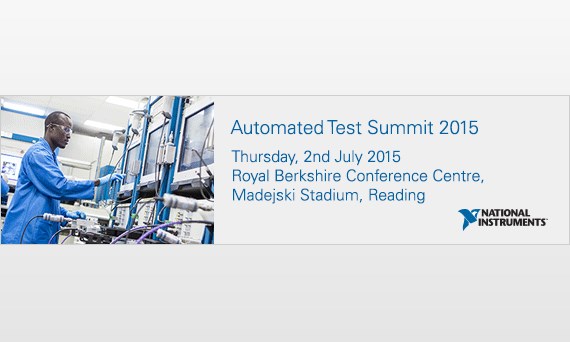 Simplicity AI have announced that they will be exhibiting at the Automated Test Summit 2015, taking place on Thursday, 2 July at the Madejski Stadium, Reading.
We are delighted to be Diamond Exhibitors at this year's ATS and I'm looking forward to presenting. We'll have a team of people catching up with old friends, colleagues and clients. It's a great opportunity to discuss developments in our field and show the market what we can offer in terms of automated testing.
 Simon Smith Operations Director at Simplicity AI
About ATS 2015
The Automated Test Summit 2015 conference, hosted by National Instruments is a free one-day test industry conference held at the Royal Berkshire Conference Centre, Madejski Stadium, Reading, It offers engaging keynotes, technical training, demonstrations, case studies and hands-on sessions for Test Engineers and Managers from a wide range of industries including RF and communications, aerospace, defence and consumer electronics. Readers can learn more at uk.ni.com/testsummit
Simplicity AI Exhibition
Simplicity AI will be located on stand 1 in the exhibition area. Experts from Simplicity AI's team will be on-hand to discuss the company's test engineering products and bespoke services. This year Simplicity AI will be guest speakers, talking about Validation & Traceability nightmares? 5-ways to streamline these processes, which will start at 14.30. Technology partners Peak Group will be sited on the neighbouring stand, so that joint software/hardware projects can be discussed.
More Information on ATS
More details on the ATS agenda, including how to register, can be found on the National Instruments website uk.ni.com/testsummit . Delegates are able to get certified free at this event and also have the chance to win a LEGO MINDSTORM EV3 (powered by LabVIEW) in the free prize draw.