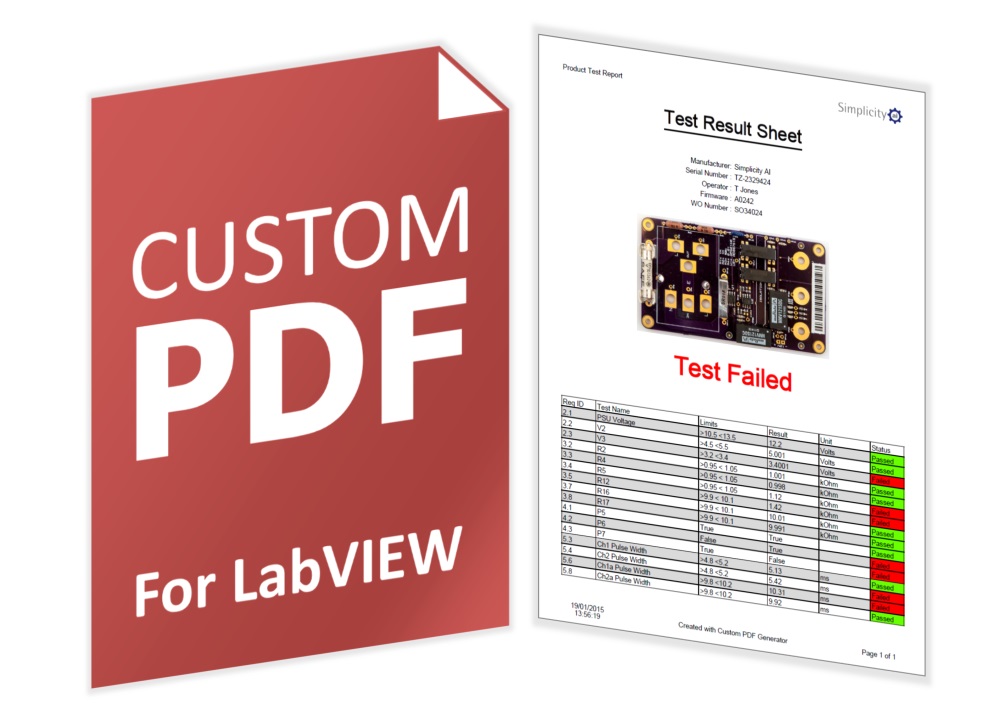 Simplicity AI have announced that a major update to their popular Custom PDF Generator for LabVIEW has just been released. This toolkit enables LabVIEW users to easily create PDF reports directly from their VI code.
Version 3 of the custom PDF Generator contains a number of new and updated features compared to previous versions; particularly in the area of table creation. Users can now individually control formatting options such as text and background color for each row, column, or cell.
Version 3 of the Custom PDF Generator includes a number of improvements over earlier versions. Many of these updates are feature additions resulting from listening carefully to feedback from our existing customers.'
Simon Smith, Operations Director, Simplicity AI
Full List of Feature Updates
Enhanced Table Formatting
Data table creation has been significantly updated with the new table builder functionality. This gives complete control of table formatting down to each individual cell. You can now individually set cell background and text colors in your test reports tables, or include custom graphics.
Custom Headers and Footers
Page headers and footers can now be fully customized. Add text, custom images and tables as you require them. Use tokenised shortcuts for easy display of page numbering and time stamps.
Unicode Support
The Custom PDF Generator now supports Unicode characters, to enable support of many languages. Create text in Chinese Russian, Serbian, Punjabi, Korean, Bengali, or many other languages of your choice.
Other Improvements
Development license activation in now automated on internet connected computers. The help pages and getting started guide have been thoroughly revised. When importing existing PDFs there are now scaling options.
Price Reduction
Despite being packed with even more features, the Custom PDF Generator is now available at a significantly lower price. In addition, there are special reductions for multiple purchases beginning with a 20% reduction on a quantity of 5 or more.
More About the Custom PDF Generator
About Simplicity AI
Based in Farnborough in the United Kingdom, Simplicity AI provides a range of advanced technical products and services for test, measurement, control and automation. Customers span across a whole spectrum of industry areas including, aerospace, defense, electronics, telecoms and medical devices.